Waterproofing is a science designed to keep water out of basements, and is the number one concern for residential and commercial properties in the U.S. The source of water is primarily from rainfall, snowmelt, and sometimes irrigation on the surface. In many areas of Texas, the groundwater table is near or above the basement floor level at various times during the year.
How Basement Waterproofing Works
There are three basic lines of defense against water problems in basements:
1) surface drainage
2) subsurface drainage
3) waterproofing on the wall surface.
Surface Drainage
The goal of surface drainage is to keep water from surface sources away from the foundation by sloping the ground surface and using gutters and downspouts for roof drainage.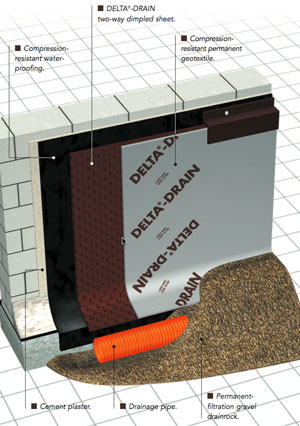 Subsurface drainage
The goal of subsurface drainage is to intercept, collect, and carry away any water in the ground surrounding the basement.
Waterproofing
Waterproofing, the final line of defense, is intended to keep out water that finds its way to the wall and floor of the structure, or in many instances involving existing structures, to keep out water which is already finding its way through the wall, floor, or both.
 Do You Need Waterproofing Help in Austin or Central Texas?
If you have water in your basement, call us today for a no obligation consultation and inspection, or fill out the form to the right. We also service areas like Fairfax or Falls Church Virginia. Let us help you protect your property before it's too late.